Our range of TV boxes
Looking for the easiest, quickest way to watch TV at home?
Want Easy Access to your favourite TV shows in crystal clear HD?
Are you looking for the simplest way to pause and record live TV, or perhaps you'd like to catch up with the very best of British TV via on demand?
At Manhattan, we've got a TV box to suit everyone.
Freeview
We have Freeview TV boxes that enable you to watch, pause, rewind or record the TV you love from over 85 channels and the very best subscription-free catch-up TV, and in Ultra HD 4K HDR.
Freesat
And, for the cost-conscious who are potentially looking to move away from an expensive Sky TV package, we have Freesat TV boxes which offer a lowest cost way to watch subscription-free satellite TV.
The simplest way to watch the very best subscription-free TV: recorded, live and on demand
Record, pause and rewind over 85 TV channels at the touch of a button
Watch catch up and on demand TV whenever you want with easy to use apps including iPlayer, YouTube, All4, ITV Hub and more
Experience the very best picture quality with Ultra HD 4K HDR programming
What are the benefits of Freeview Play?
Freeview Play gives you 95% of the nation's favourite TV, all for free. That's not all - it also gives you access to the best British catch-up and on-demand services, meaning you can watch your favourite shows on your own terms. If you want a TV box that will give you the best of the UK's telly for free, this is a great option for you.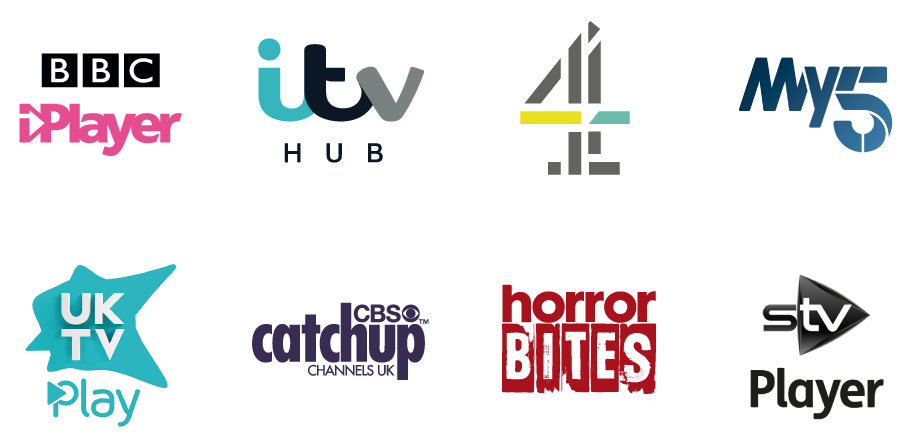 The simplest way to watch all your favourite shows across over 170 satellite channels
Get the shows you love via satellite without paying a subscription fee
Enjoy 20+ channels in HD
What does Freesat offer?
Over 170 channels of satellite TV with 20+ in HD and no monthly fees

---
T1, T2•R, T3 & T3•R - The Freeview service and channels are subject to coverage and may be changed from time to time. Aerial upgrade and/or receiver may be required. Visit freeview.co.uk/get-freeview/channels-at-your-address
T3 & T3•R - Minimum broadband speed of 2Mbps required for catch up and on demand services. Watching on demand and catch up programmes will count towards any monthly broadband data allowance. 7-day catch up for selected channels. 4K & HDR content currently only in supported apps such as YouTube
SX - Number of Freesat channels correct at time of publishing, including SD, HD and regional TV variants and radio channels.