After a slightly longer than anticipated wait, we're delighted to announce that v2 of our T3-R software is out today.
It hasn't been easy making this happen in a pandemic, but we've been working hard to bring BritBox and some of the most-requested features to the T3-R along with many other improvements and fixes.
As announced earlier this year, we had to prioritise and split up what we had originally planned for v2, and the remainder of the update – including the ability to search for future programmes – we hope to release by the end of summer.
The eagle eyed amongst you may have noticed we originally planned to call this v1.50, but we believe the size and scale of the update means it's worthy of being called v2.
If your T3-R is connected to the internet it will update automatically, unless you have disabled automatic updates in the System Settings menu. For a full list of what's changed and instructions on updating via USB, please see our T3-R software update page. Or read on to explore the main new features!
BritBox
Britbox is one of the apps you ask for most and we are thrilled to announce its arrival to our boxes! We've shared all the details in this post and can't wait to hear about the shows you discover on it.
3rd channel viewing and timeshifting
When recording on two channels you can now watch and pause or rewind a third channel. The available channels will depend on the two that are recording. If they are:
on the same multiplex then you can watch any channel
on two different multiplexes then you can watch any channel that's also on one of these two multiplexes
A multiplex is a group of channels that are broadcast together. For example, all of the main HD channels (BBC One HD, ITV HD, Channel 4 HD, Channel 5 HD, etc) are on the 'BBC B' multiplex.
Put simply, the T3-R will let you watch a third channel whenever possible and tell you if you need to stop a recording to do so. You can also turn on a setting to mark unavailable channels in the TV Guide and Channel Browser by going to: Settings > Channels > Mark Unavailable Channels.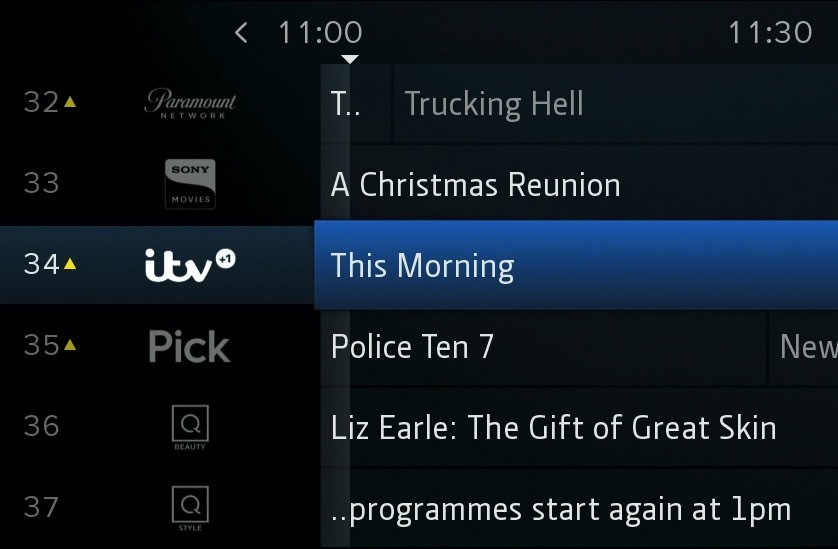 Reminder improvements
Missing your favourite programme starting when you want to watch live is never ideal, so in the same way that you can watch a third channel at the same time as two others are recording, you can also set reminders for programmes that you don't want to miss while two recordings are in progress.
Overlapping reminders can now also be set. Previously, if you'd set a reminder for a programme that starts at 20:00 and finishes at 21:00, the earliest you could set another reminder for was a programme that started at 21:00. Now you can set a reminder for any programme that starts after 20:00.
HDMI Control
To make turning your TV on and off as easy as possible, when you turn on your T3-R it can now turn on your TV and change it to the right input. Your T3-R will also go to standby when you put your TV in standby. This all works with AVRs and soundbars too.
Please note that some older devices may not support HDMI Control, and the feature needs to be enabled on your TV, AVR or soundbar to work. HDMI-CEC is the generic name but manufacturers all call it something different: Anynet+ (Samsung), Viera Link (Panasonic), LG (Simplink), BRAVIA Link and BRAVIA Sync (Sony), Aquos Link (Sharp). We just call it HDMI Control!
To enable this feature on your T3-R, go to: Settings > System > HDMI Options > HDMI Control.
When HDMI Control is enabled, the T3-R also has a setting to 'Turn Off Devices'. Turn this on and when you press the standby button on your T3-R remote it will also put your TV and any other connected and compatible devices in standby too!

Manual padding
The T3-R normally starts and stops recording when the broadcaster signals that the programme starts and ends. This is because programmes almost never start or end at the exact scheduled time – they're usually a minute or two early or late, and sometimes even more. This broadcaster signalling is normally very accurate and means recordings start and stop exactly when they should. However, sometimes broadcasters get it wrong, particularly on the more niche channels.
If you're finding that some of your recordings are starting late or finishing early, we've added the option to change from this automatic behaviour and instead add a customisable amount of padding to the start and end of all recordings. Go to: Settings > Recording & Playback > Padding Options > Padding Type > Manual. In our testing we've found that 5 minutes of padding is plenty so have set this as the default to be added to the start and end, however you can change this to any amount from 2 to 10 minutes.
It's important to note that if you have two consecutive recordings on the same channel then the padding between them will be ignored – the first recording will end at the scheduled time and the next recording will start at the scheduled time. The same applies if you have two consecutive recordings on different channels and a recording on another channel that overlaps both of these recordings.
As broadcasters usually signal the start and end of recordings correctly, it gets really annoying having to fast forward through the padding to the actual start of the recording. So, to avoid this, by default when you start playing a recording it will start from the signalled start rather than the recorded start. If for some reason the broadcaster signalled the start late, you can simply rewind back to catch the beginning . You can change this behaviour so that recordings always start from the recorded start by going to: Settings > Recording & Playback > Padding Options > Playback Start.
We've also added markers to the playback bar for where the broadcaster signalled the start and end of the recording: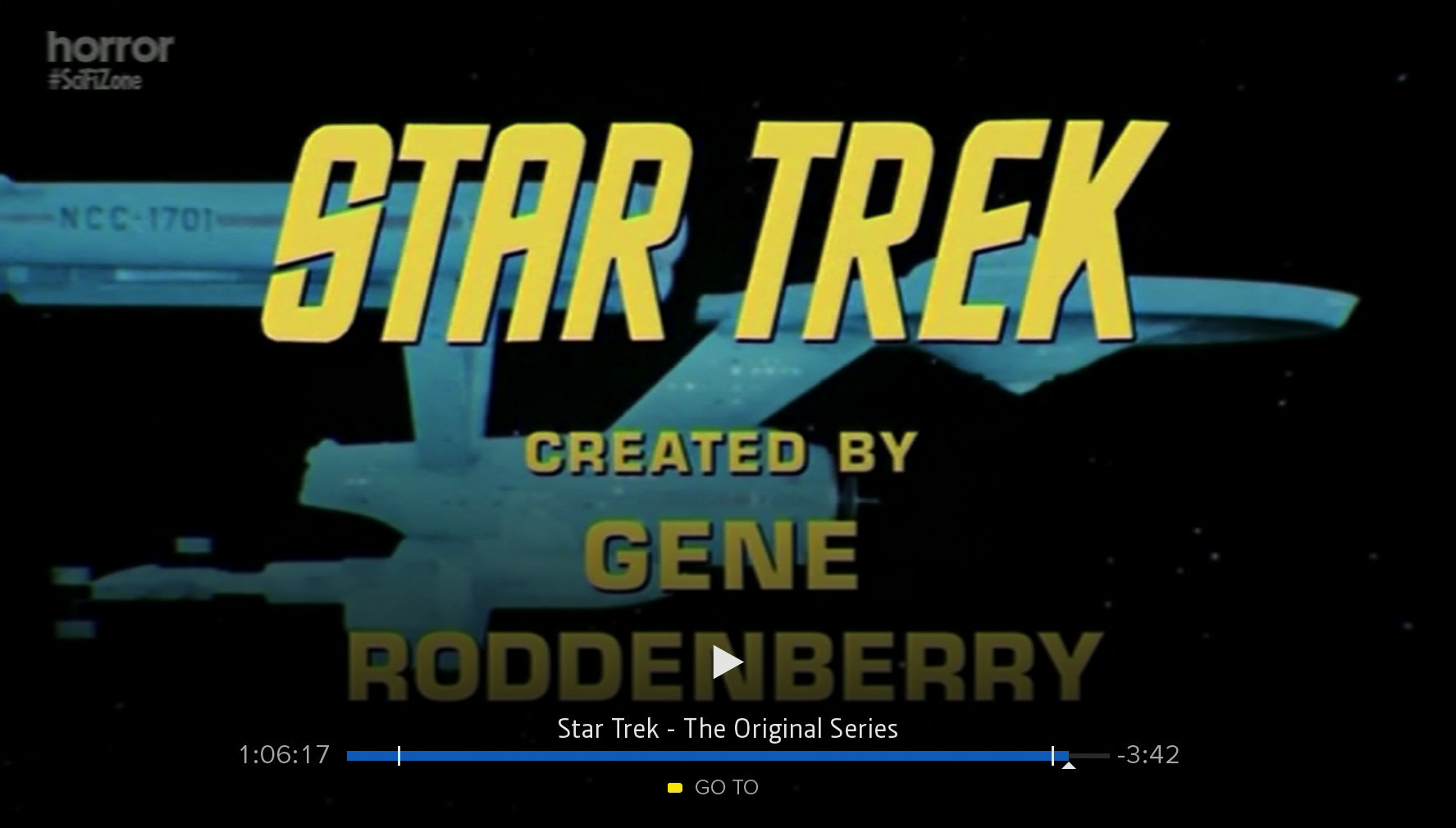 In this screenshot Star Trek has been recorded on Horror with 5 minutes of start and end padding. The white markers on the playback bar indicate when Horror signalled the start and end of the programme and in this case they signalled the end just over a minute early. If this had been recorded without any padding then the last minute would have been missed! But, because of the new padding feature the whole episode was caught, meaning you never miss a second of your favourite show.
Please note that broadcasters usually signal the start of programmes when they actually start but the end of programmes after the ad break that follows the end. So even if you don't see the marker for the end of the programme, it doesn't necessarily mean that the end of the programme was missed.
We hope you all enjoy the new features - we're already hard at work on our next update and will share more news on that as soon as we have it.