When we took a moment to sit back and reflect on our own journey, we realised we've never given you an in-depth history of the Manhattan TV journey so far. So here it is!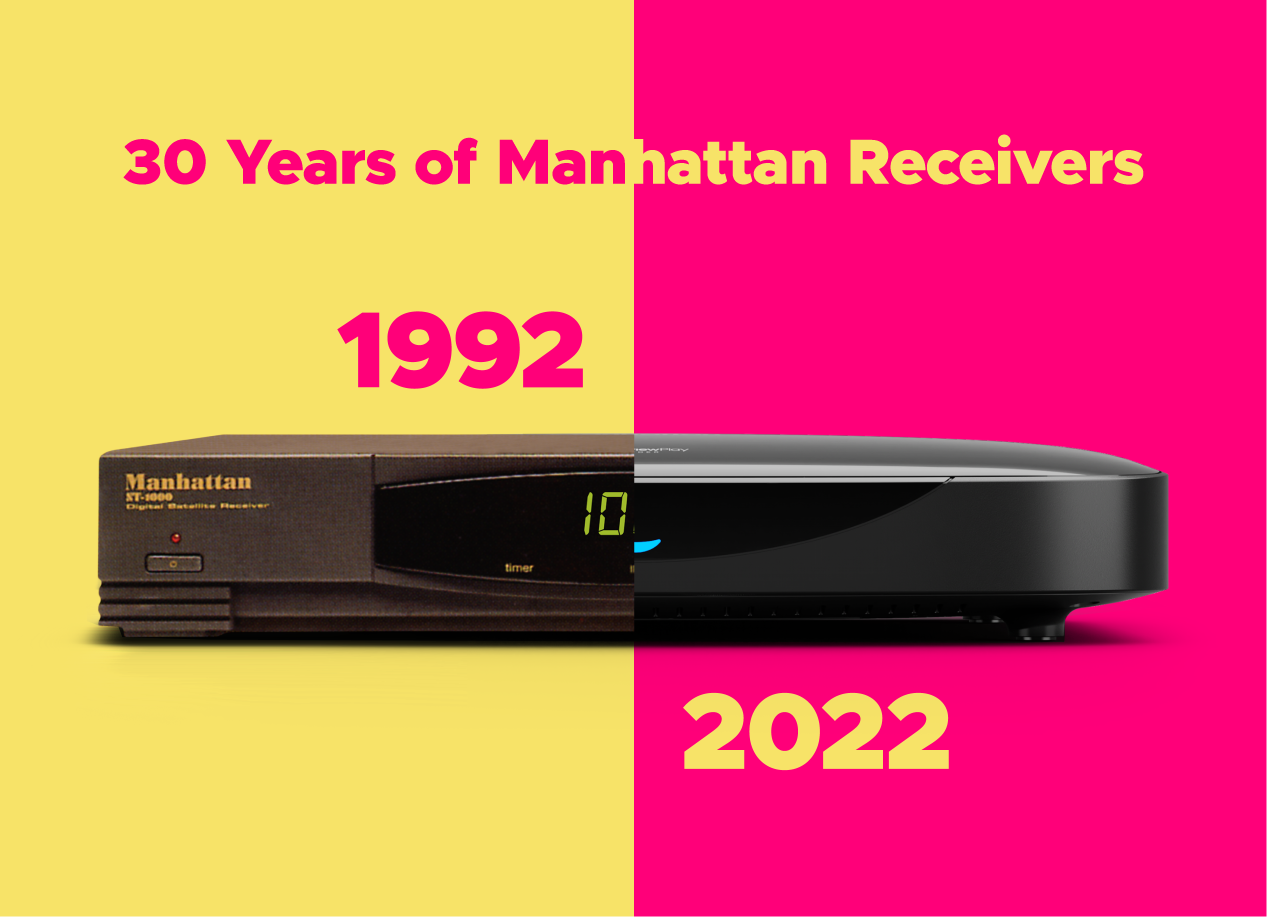 Back to the start
Cast your minds back to 1992, where the whiff of change was definitely in the air. The juggernaut that we now know to be the Premier League was introduced as well as some 'major' changes over at Downing Street. But those weren't the only seismic introductions. Manhattan TV; although not as we now know it, was born.
The TV landscape back in the early 90's is almost unrecognisable from what we have now. Who remembers the Spice Girls dancing around the colourful set during Channel 5's launch back in 1997?
Freeview and Freesat were yet to grace us with their presence and subscription TV dominated the industry. The only way to ensure you could watch all the best shows was to be a Sky customer. Genuine alternatives just didn't exist yet.
Cutting our teeth
Manhattan was created in 1992 as Satellite TV exploded around the world and demand surged for satellite receivers. Unlike in the UK, where Sky and satellite TV were virtually synonymous, much of the rest of the world was more like the wild west. There were a huge number of free channels to be found and subscription TV came in the form of viewing cards that could be used in any compatible satellite receiver – just like those from Manhattan!
Enthusiasts in particular loved Manhattan receivers because of their power and flexibility, with some models having the capability to actually reposition a motorised satellite dish so you could channel surf from satellite to satellite!

In the late 90s and early 00s the global market for specialist satellite receivers started to collapse as the pay-TV industry consolidated and subscription TV around the world became more tightly controlled. At the other end of the market a parade of cheap Chinese-made receivers did the job for those just wanting to watch free channels.
Fast forward to 2002 and the introduction of Freeview in the UK was a landmark moment. The vice-like grip that Sky had began to loosen and subscription-free services were in the ascendancy. This gathered even more momentum once Freesat joined the party in 2008, meaning something special would be just around the corner.
Manhattan as we know it
With our specialist satellite background, we were a natural fit for Freesat and in 2010 we released our first Freesat box, the Manhattan DS-100, a sleek and simple plug-and-play box that's still in widespread use today!
A year later, we expanded the range to include a Freesat HD box and a Freesat HD recorder, and once the range was established in the major retailers we then set about developing our current range of Freeview models starting with the T1 and ending with the current flagship T3-R, which is said to be the near perfect Freeview Play recorder. We'll definitely take that!
But why "Manhattan?" - well, we wanted a name that would be instantly recognisable - something that all of our customers internationally could resonate with. For more insight into the origins of our name, go and have a read of this piece we wrote last year all about it.
There we have it, a definitive breakdown of our history. So what does the future hold for Manhattan? Our aim now is simple: to be the go-to for Brits that want to watch quality British telly, past and present, in the simplest way possible. We don't think we're doing a bad job of that either!
Want to know more about our history? Let us know on Facebook or Twitter, or you can even email us - we'd love to hear from you!